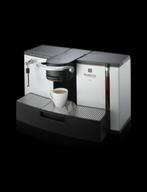 Nespresso coffee machine ES100 rental

Nespresso Coffee Machine
Single Head - ES 100 for rental supplied with 150 doses of coffee

Delivered with a kit containing
150 Coffee doses, 150 Cups, 150 Sugars,
150 Stirrers, Additional Kits available.

Technical Specifications :

Height:          26.8 cm
Width:          46.8 cm
Depth:          42.2 cm
Max Power:  1348 Watt
Pressure:      18 Bar
Reservoir:      3 L
Weight:          6.6 kg

Extremely simple to operate, fully automatic, elegant in design.
Supplying a Quality Nespresso coffee every time.